Dear Reader-
This recipe for Always Ready Pie Crust Mix struck me by surprise... I never knew you could do such a thing!
So, when this
FREEZE-O-RAMA Mama
saw this OAMC (once a month cooking) recipe in
Sweet & Simple
, I instantly knew it was going to be my Recipe # 3 for my In the Kitchen with Gooseberry Patch project with the Real Farmwives of America and Friends.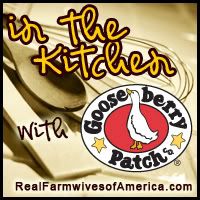 You just take 6 cups of all-purpose flour...
And 2 Cups of Shortening
And 3 t Salt
And blend it up with a pastry blender...
Truth be told, this was my first time using a pastry blender... and until now, I didn't understand what the big deal was...
Now I do.
LOVE how easy it blends well... pastry stuffs ;)
Genius name if ya ask me... just sayin'
Now keep 'er sealed up tight until you are ready to use it.
Now then I gots to thinkin'...
I probably won't remember that 2 Cups mix should be mixed with cold water 1 T at a time (up to 6 T)...
Then I probably ought to note that somewhere...
Then I remembered the most fabulous markers (besides Sharpies) known to man...
Wet Erase Markers
.
You might recall that I recently discovered the most
lovely fun way
to keep track of my grocery list literally on my fridge!
So, it occurred to me that I could do the same right on the smooth side of my pie crust container.
Links featured on GOODEness Gracious are often affiliate links. GG often receives products for free to review. GG opinions are however very much Cris' own. Just try to get her to say something she doesn't believe in... dare ya ;) If you have any questions about the products or recommendations found on this blog, just pop us an email :)